PosiTector Digital Shore Hardness Durometer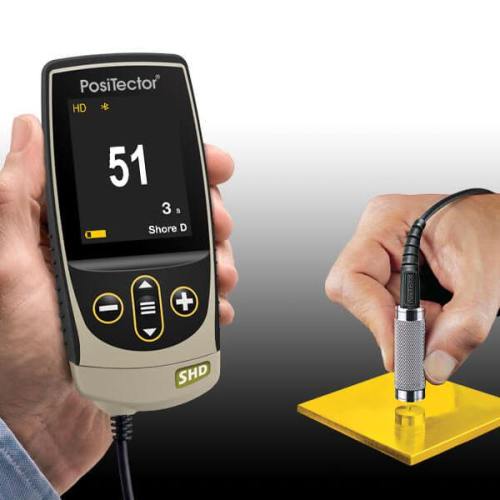 The PosiTector SHD Shore Hardness Durometer is a hand held digital gauge for measuring the indentation hardness of non-metallic materials. Two models are available for different hardness ranges - Shore A and Shore D.

Conforms to ASTM D2240, ISO 868/7267/7619, and DIN 53505
User-adjustable measurement time with on-screen countdown to conform to national and international standards
Auto Ignore mode disregards hardness readings below 20 and above 90 per international standards
Statistics mode continually displays/updates average, standard deviation, min/max, and number of readings while measuring
Screen Capture—save 100 screen images for record keeping and review
HiLo alarm audibly and visibly alerts when measurements exceed user-specified limits
Impact resistant color touchscreen with keypad for quick menu navigation
Weatherproof, dustproof, and water-resistant—IP65-rated enclosure
PosiTector interchangeable platform—attach any PosiTector probe to gage body
USB, WiFi, and Bluetooth connectivity to PosiSoft PC, Mac, and Smartphone software
Includes test block to verify operation
Certificate of Calibration and Two year warranty
Standard Models (1)
Includes ALL features as shown above plus... Storage of 1,000 readings per probe—stored readings can be viewed or downloaded
Advanced Models (3)
Includes ALL features as shown above plus...
Storage of 250,000 readings in up to 1,000 batches
Auto Sub-Batch—automatically create sub-batches after the required number of readings are taken
Live graphing of measurement data
Touchscreen keyboard for quickly renaming batches, adding notes, and more
WiFi technology wirelessly synchronizes with PosiSoft.net and downloads software updates
Bluetooth 4.0 for data transfer to a mobile device running the PosiTector App or optional portable printer. BLE API available for integration into third-party software
Integrate with third-party software, drones, ROVs, PLCs, and robotic devices using several industry-standard communication protocols
Get a Quote
Contact us direct to discuss your requirements and we'll give you a quote.
Contact us