Our Products
DeFelsko PosiTector 6000 coating thickness gauge
Rugged, weatherproof coating thickness gages for accurate measurement of dry film thickness on all metal substrates.
All gauges supplied with calibration certificate and 2 year warranty.
Interchangeable probes compatible with all gauge bodies.
Standard (1) option has monochrome display and storage for 250 readings.
Advanced (3) option has colour display, 100,000 storage and data transfer via USB or Bluetooth.
Simple
Ready to measure—no calibration adjustment required for most applications
Enhanced one-handed menu navigation
RESET feature instantly restores factory settings
Durable
Solvent, acid, oil, water and dust resistant – weatherproof
Wear-resistant probe tip
Shock-absorbing, protective rubber holster with belt clip
Accurate
Certificate of Calibration showing traceability to NIST included
Built-in temperature compensation ensures measurement accuracy
Hi-RES mode increases displayed resolution for use on applications that require greater precision
Conforms to national and international standards including ISO and ASTM
Versatile
Gage body universally accepts all PosiTector 6000 (coating thickness),SPG (surface profile), DPM (environmental) and UTG (ultrasonic wall thickness) probes
Multiple Calibration adjustment options including 1 point, 2 point, known thickness, average zero
Selectable display languages
Hi Contrast backlit display for bright or dark environments
Flip display enables right-side-up viewing
Powerful
Statistics mode continually displays/updates average, standard deviation, min/max thickness and number of readings while measuring
HiLo alarm audibly and visibly alerts when measurements exceed user-specified limits
FAST mode - faster measurement speed for quick inspection
USB port for fast, simple connection to a PC and to supply continuous power. USB cable included
Software updates via web keep your gage current
Screen Capture -record and save image into USB flash memory for record keeping and review
PosiSoft solutions for viewing, analyzing & reporting data:
PosiSoft USB Drive -stored readings and graphs can be accessed using universal PC/ Mac web browsers or file explorers. No software required
PosiSoft.net account - a free web-based application offering secure storage of thickness readings
PosiSoft 3.0 - desktop software (PC/Mac) for downloading, viewing, printing and storing measurement data. Available as a free download.
PosiSoft Mobile -(Advanced models only) - access readings, graphs, capture photos and update notations through WiFi enabled devices such as tablets, smart phones and computers
Every stored measurement is date and time stamped
Buy This Now
From
£480.00
Video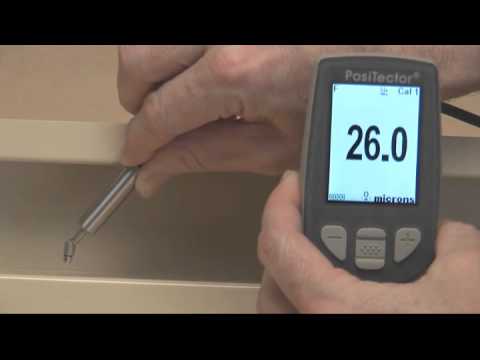 Buy This Now
Download a Detailed Specification:
Download PDF File