Mecmesin VTG Tornado touchscreen torque tester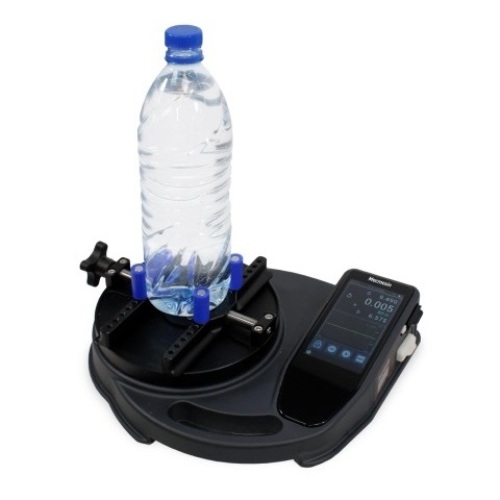 The Mecmesin VTG Tornado touchscreen torque tester for testing the applied and released torque of a diverse range of products. Measures up to 10 Nm to capture opening and closing torque of caps/closures intended to be opened by hand. Supplied with calibration certificate and standard accessories.

Features
5" colour touchscreen with dual-zone display.
IP-54 rated splash-resistant case
Touchscreen upper zone displays peak readings in N.cm, lbf.in and other common units of measurement. Touchscreen lower zone displays a live graphical plot of the torque applied, so critical events such as release torque, bridge-breaking of a TE band, and strip torque can be easily identified. Lower zone can be switched statistical overview, calculating Max, Min, Average and Standard Deviation from the peak readings captured in the VTG memory.
Configurable first-peak function, coupled with the standard maximum reading, ensures that both the initial slip torque and also the bridge-breaking torque are captured. This is particularly valuable when measuring the performance of plastic and metal tamper-evident closures (eg ROPP), where a maximum reading alone is insufficient to determine both characteristics
Data transfer via RS232 to a PC or printer for analysis.
Onboard memory of over 500 peak results is available for mass storage.
External SD memory card to capture all the individual data-points for each test in .csv format for export to Excel and other software packages.
Configurable alarm indicates when the torque reading is within or outside the tolerance limit for the closure.
Password-protected lock function reduces risk of operators inadvertently changing units of measurement or the operating mode, particularly when the instrument is being used over several shifts by different operators.
Supplied with calibration certificate and standard accessories.